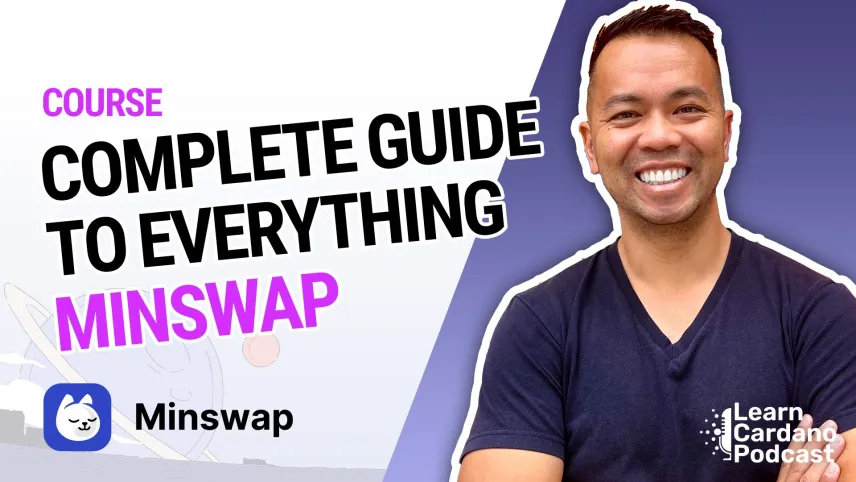 Minswap is a decentralized exchange (DEX) that enables users to trade cryptocurrencies without centralized exchanges. This guide will help you use Minswap, understand its features, and optimize your decentralized finance (DeFi) experience.
Often referred to as the people's DEX, Minswap is entirely community-funded, with no venture capital backing its development. From the Fair Initial Stake Offering, which distributed tokens to the community, to the launch of liquidity pools on the DEX, Minswap consistently adopts a community-first approach.
You will need a Cardano Native wallet to start using Minswap.
To begin using Minswap, you'll need a Cardano-compatible wallet. You can either create a new wallet or use an existing one. After setting up your wallet, deposit some ADA into it. With ADA in your wallet, you're all set to start trading on Minswap.
For more information on getting started, refer to our wallet tutorial and basic wallet usage guide.
Quick Start Guide to Minswap
Create a compatible wallet: To interact with Minswap, you will need a compatible wallet that supports the blockchain on which the DEX operates. Minswap is a DEX built on the Cardano network. As a result, wallets like MetaMask and Trust Wallet are incompatible with the platform. To use Minswap, you'll need a Cardano-compatible wallet, such as Nami, Eternl, or Typhon. Set up your wallet, store your private keys securely, and ensure you have some funds in your wallet to pay for transaction fees.
Connect your wallet to Minswap: Visit the Minswap website and click on "Connect Wallet." Select your wallet from the list and follow the prompts to connect it. Once connected, you will be able to see your wallet's address and balance on Minswap.
Understanding Minswap Features
Swap: This is the primary function of any DEX. On Minswap, you can exchange one cryptocurrency for another by selecting the desired input and output tokens. Input the amount you want to trade, review the exchange rate and fees, and click "Swap" to initiate the transaction. Confirm it in your wallet, and your new tokens will appear in your wallet once the transaction is complete.
Liquidity Pools: Minswap utilizes liquidity pools to facilitate swaps. As a user, you can provide liquidity to these pools and earn a share of the transaction fees. To do this, select "Pool" from the menu, choose the tokens you want to provide liquidity for, and input the amount you'd like to contribute. Please note that you need to provide an equal value of both tokens. You can also use Minswaps ZAP feature which will allow you to purchase the liquidity pool tokens directly with one token. Once you've provided liquidity, you will receive LP (Liquidity Provider) tokens, which represent your share in the pool.
Farming: Minswap offers yield farming opportunities, where users can stake their LP tokens to earn additional rewards, usually in the form of the platform's native token. Navigate to the "Farming" section, select the pool you'd like to participate in, and stake your LP tokens. You'll then start earning rewards based on the pool's APY (Annual Percentage Yield). Some of these farms also earn your ADA staking rewards and additional project tokens allocated for that farm.
Governance: Minswap is governed by its community. Community members can submit proposals, discuss, and vote on changes to the platform. To get involved, visit the "Governance" section, where you can view active proposals, vote on them, and create new proposals.
Tips for Using Minswap Effectively
Diversify: Consider providing liquidity to multiple pools or participating in various farming opportunities to spread your risk and maximize your returns.
Stay informed: Keep an eye on Minswap's official channels (e.g., Twitter, Discord, or Telegram) for news, updates, and announcements. Engage with the community to learn from experienced users and stay up-to-date with any changes to the platform.
By following this guide, you'll be well-equipped to make the most of your decentralized finance experience on Minswap. As always, remember to exercise caution and perform your own research when investing in cryptocurrencies and DeFi platforms.
Disclaimer: Risks involved when trading on a decentralised exchange.
When trading on Minswap or any other decentralized exchange, it's crucial to be mindful of the inherent risks. Decentralized exchanges lack the regulatory oversight of centralized exchanges, which can result in an increased risk of fraud or theft. To mitigate these risks, trade only with trusted parties and always safeguard your private keys. Carelessness could lead to the loss of all ADA and other Cardano native tokens in your wallet. It is highly recommended that you use a hardware wallet such as a Ledger Nano to securely trade across the DeFi ecosystem.
Impermanent Loss
One risk associated with trading on a decentralized exchange is impermanent loss. This occurs when the value of tokens held in a liquidity pool decreases compared to the value they would have had if you had not provided liquidity. Impermanent loss can arise from various factors, so it's essential to be aware of this possibility before you begin trading.
The Minswap team is constantly working on new features and improvements to the platform to make it more user-friendly and reduce the risks involved in trading on the DEX.
To learn more about Minswap, visit our website or join their community Discord server.