If you're one of the many people that had heard about the NuNet EarnDrop on Cardano and wanted to hold some NuNet tokens on the Cardano blockchain to earn some more NuNet tokens, then this is the tutorial you've been waiting for. We'll take you through the process of how to bridge NTX tokens from Ethereum to the Cardano blockchain and then start participating in the NuNet EarnDrop.
The Bridge
The SingularityNET Bridge allows users to transfer their tokens across supported Blockchains. Currently, the tokens that it supports AGIX and NTX tokens on Ethereum and Cardano. The bridge enables seamless conversion of both the AGIX and NTX tokens across these chains.
Why migrate NTX tokens to Cardano
The NuNet EarnDrop is a rewards program initiated by the NuNet team, where users can earn more NTX tokens when they simply hold at least 10,000 NuNet tokens, 150 ADA tokens and are delegated to one of the many single stake pool operators that have partnered up with NuNet. As part of this program, all migrated ETH-NTX tokens will be eligible for further rewards from the NuNet EarnDrop. (This is most likely why you are here reading this article as you can move those NTX tokens over from Ethereum to Cardano to earn more NTX tokens)
How to bridge/move/change Ethereum $NTX tokens to Cardano $NTX tokens
To bridge your Ethereum NTX tokens across to Cardano, you will need to first set up a Cardano wallet. We're assuming you already have your NTX tokens in a Ethereum based wallet such as Metamask.
There are many good Cardano wallets to choose from. Almost all of them work with the bridge as it is implemented in its most simplest form for maximum compatibility.
Here is a list of our top 6 light wallets for Cardano:
Nami
Eternl
Typhon
Flint
GeroWallet
Yoroi
If you wish to use a full node wallet and have the system resources to download a copy of the blockchain and operate the node, we suggest you use Daedalus.
With any wallet you choose, please ensure that you are downloading and accessing it from an official source. It is know that scammers will create fake wallet websites to try and scam your details.
For further instructions on setting up a wallet on Cardano, please follow our tutorials.
Now that you have your wallets setup and working, we can start the bridge process.
Total Time: 30 minutes
Visit the SingularityNet Bridge to Move NTX from Ethereum to Cardano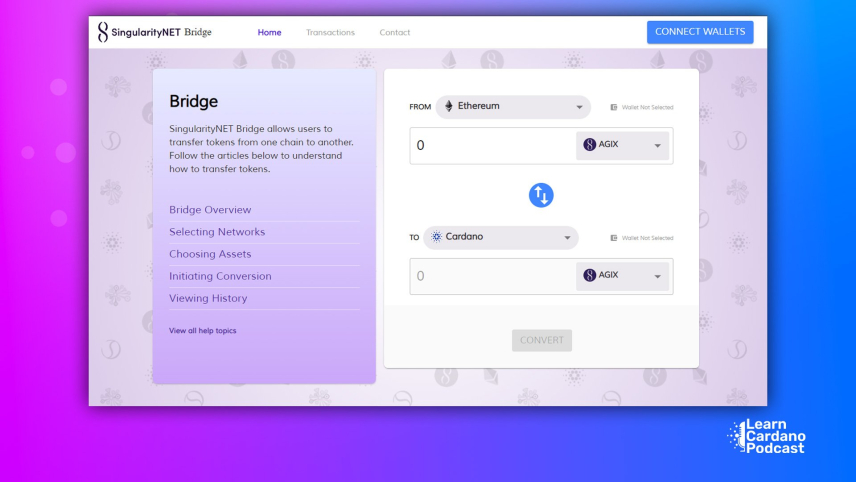 Visit the official bridge to start moving your NTX or AGIX tokens from the Ethereum blockchain to the Cardano blockchain.
Connect Your Wallets
Next we need to connect both our Ethereum (MetaMask) wallet and Cardano native wallet.
Unlock your Ethereum based wallet and click the connect button on the bridge interface. If you wallet is unlocked, the address should be added to the Connect Wallets interface.
Next we need to obtain our Cardano receiving address.
Obtaining Your Cardano Receiving Address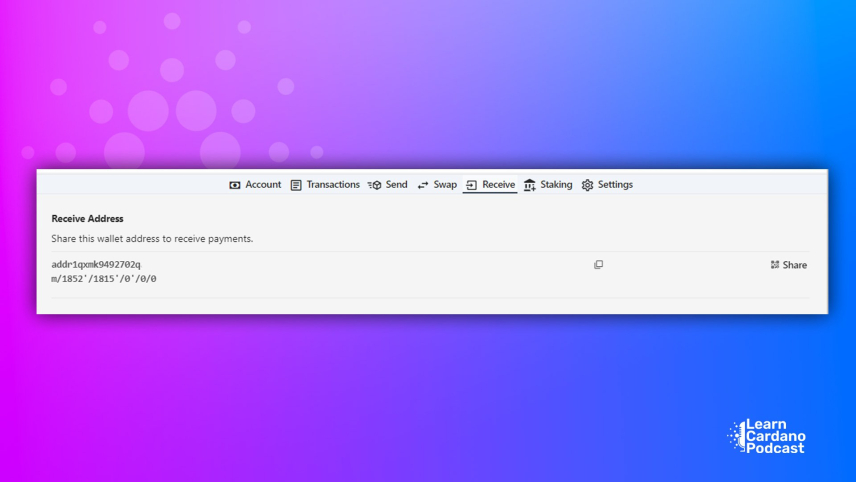 From Your Cardano wallet, search for the RECEIVE tab.
Your wallet will show your receiving address. Please note that this address may change each time you open your wallet but you can always reuse your previously used wallet address.
Copy the address and paste it into the bridge wallet interface.
Pasting in Your Cardano Native Address
Back on the bridge, paste in your Cardano native address. You should now have defined both wallets from both ecosystems to move assets to and from either chain.
Choose From and To Networks & Tokens to Move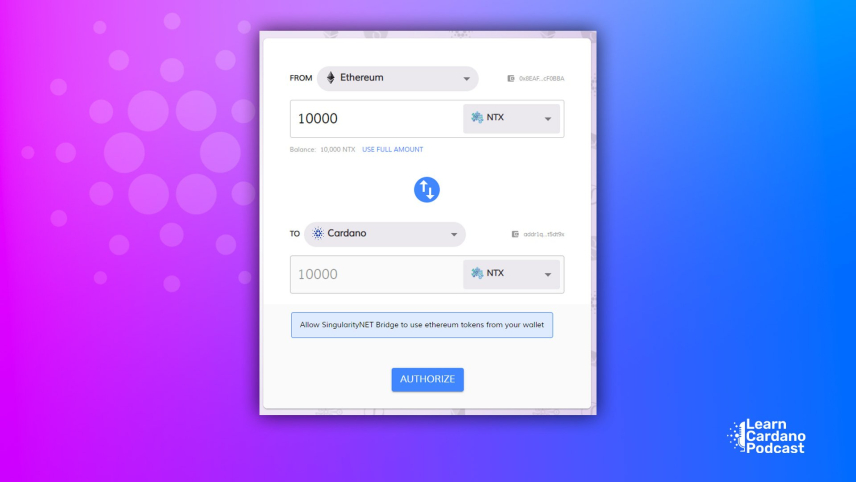 Now that your wallets are connected, you can choose your FROM network and your TO network. Since we are moving assets from Ethereum to Cardano, set the FROM network to Ethereum and TO network to Cardano.
While you're here, choose NTX as the token you wish to bridge and move from Ethereum to Cardano.
Choose the amount of tokens you wish to move across the bridge. In this example, we are moving 10,000 NTX tokens.
* Please note that this bridge can only power movements of AGIX and NTX tokens.
Authorise Your Transaction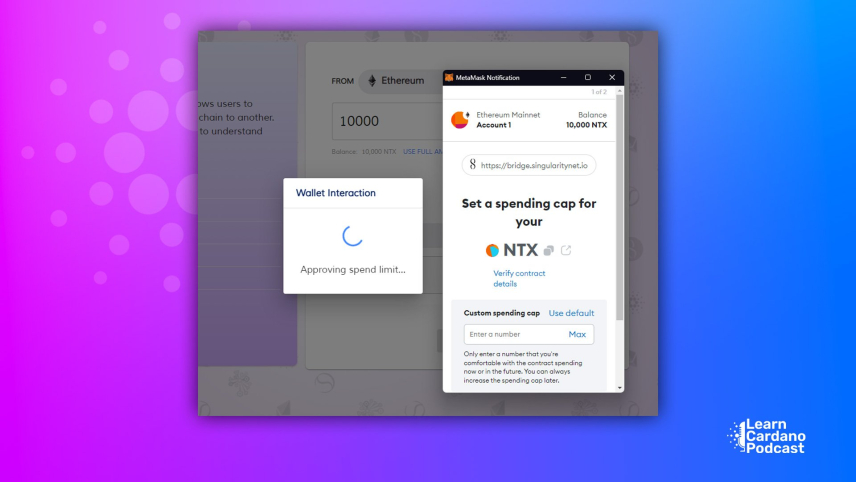 Now you have specifiec your desired bridge assets and networks, you can click Authorise and start the transaction.
Your MetaMask wallet will pop up with the details of your transaction.
Check that the details are right.
Pay for Gas Fee (Transaction Fee)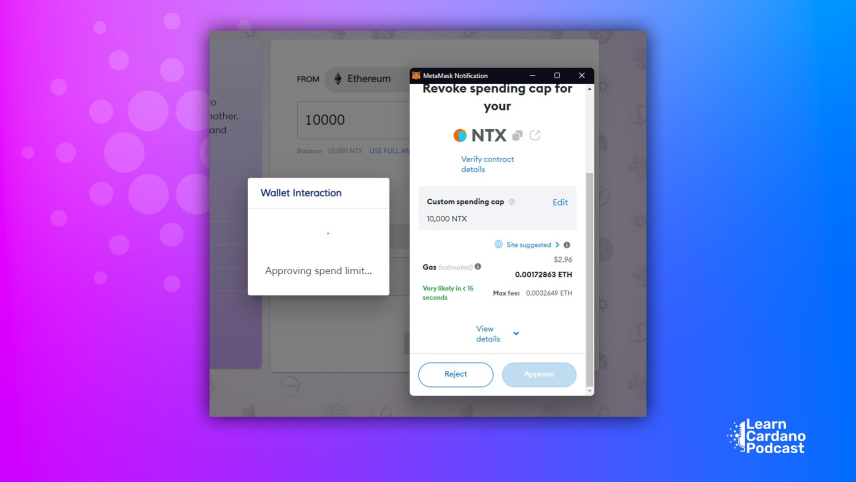 The next prompt will ask you to pay for the transaction fee to bridge the assets. Check that the fees look correct and all transfer data is correct and click APPROVE
Bridge Process Complete
Congratulations, you have successfully performed the transactions to migrate your crypto assets from Ethereum to Cardano.
Please note that this process can take awhile to complete. The Bridge process is dictated by the network speed of both Ethereum and Cardano networks.
Now that you have successfully bridge your tokens from Ethereum to Cardano, you can delegate your wallet to a NuNet partnered stake pool and start earning the bonus NTX tokens from the EarnDrop campaign.
You can find out more details about the various stake pools you can delegate your wallet to including our own stake pool, ADAOZ.
Requirements for NuNet EarnDrop
To qualify for the NuNet EarnDrop, you must meet the minimum requirements.
Have 150 ADA in your Cardano Wallet
Have at least 10,000 NTX tokens in your wallet
Delegated to a Cardano stake pool that is a part of the NuNet partnership such as ADAOZ.
Be delegated between the time period of 4th Feb 2023 – 21st March 2023
More details about claiming the tokens will come soon in other tutorials
Risks involved in bridging tokens
There are certain risks associated with bridging tokens across different blockchains. These include, but are not limited to network latency, transaction fees and any other technical issues related to the underlying blockchain networks. Additionally, there is always the risk of cyber-attacks and loss of transactions due to malicious activities or human errors. Therefore, it is important to ensure that you are aware of these risks before initiating any token bridge processes.
Got a Question?
Do you have a question or need more support? Leave a comment below and we'll make sure your question is answered.
Also check out the latest video about the NuNet DMS being launched for Cardano stake pool operators to take advantage of Decentralised Computing power.