EP045 – Cardano ISPO & Cardano Airdrops – July 2022 Update
Episode by Peter Bui on July 14th, 2022
Cardano ISPO or Initial Stake Pool Offerings (ISPOs) are highly popular in the Cardano ecosystem. It allows you to easily earn new ecosystem and project tokens by staking them to various stake pools.
Some of these Cardano ISPOs have partnered with others in the ecosystem to allow you to earn your ADA rewards along with the new tokens while others negate your ADA rewards in exchange for the new tokens.
Whatever it may be, you will be able to obtain these new tokens for selling, trading or utility within the various platforms.
Please check with each project to find out when the start and end dates are for the delegation of these ISPOs as they can vary from time to time and end earlier or be extended.
If you want to learn more about Initial Stake Pool Offerings, please listen to episode 37, What is an Initial Stake Pool Offering, for more information.
Ardana and Genius Yield ISPOs will be covered in their own videos as it was more content than I could cover in this update.
Table of Contents
Decentralisation of Staked ADA
Check Your Staked ADA
https://poolpeek.com/retiredpools
Move Out of Genius Yield GENS4 pool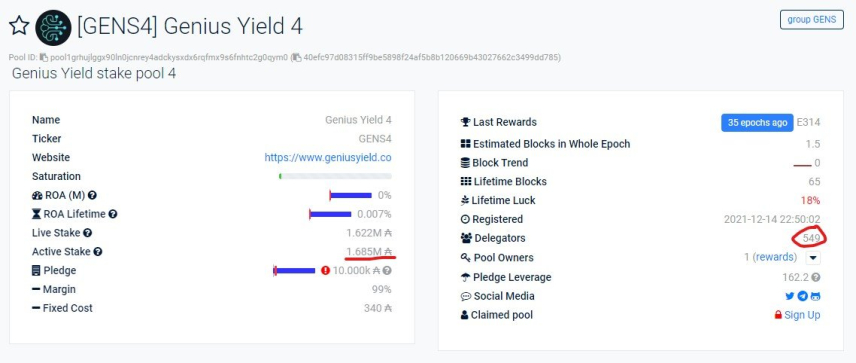 Please move out of GEN4. This particular pool expired earlier this year and many requests have been made for delegates to move their delegation out. At the time of writing this post, there are still 549 delegates in the pool with over 1.6M ADA not earning any rewards. Move your ADA to an active pool that is providing you with ADA rewards or even another ISPO to earn new project tokens.
Climate Neutral Cardano ISPO
Earn CNC tokens by staking to one of the Climate Neutral Cardano stake pools and helping the restoration and reforestation of Madagascar.
Stake your ADA to any of these community pools:
CO2P
BIO
Shift
ARM1
GAIA
GRANA
YOON
RSV
HODLR
46S
UPSTR
VOLCY
STOIC
RENEW
RCADA
Find out more about the CNC token, ISPO and latest stake pools that are a part of the alliance.
Goat Tribe $GRASS Cardano ISPO
The $GRASS Cardano ISPO is a token distribution that revolves around the Cardano NFT, Goat Tribe.
You can earn their token by delegating to their stake pool. There are also bonuses if you delegate with a wallet that holds their NFT.
ISPO starts epoch 354 (July 29th, 2022) and ends epoch 390 (January 25th, 2023).
Follow their Medium and latest posts to keep up to date with the ISPO.
Flac Finance ISPO
The Milo NFT mint is still live on the Flac Finance website.
Find out more at flac.finance.
Smart Contract Audit Token DAO ISPO
Smart Contract Audit Token Decentralised Autonomous Organisation or SCATDAO provide audits and analysis of various projects in the Cardano ecosystem. It's a part of your own 'Do Your Own Research' (DYOR) process which everyone should do before getting involved with a project.
SCATDAO provide these audits independently to the paid audits that may have a reason to skew the results to keep their clients happy. As a result, it is hard to trust these third-party audits. SCATDAO is a decentralised autonomous organisation owned by its community and can provide a framework and rating system for all of these new smart contracts that are appearing on Cardano in a trustless manner.
You can earn their token and be a part of their ecosystem by staking to their stake pool and earning that token.
Stake pool ticker: AUDIT
Find out more about the SCATDAO ISPO.
Cardax Cardano ISPO
Cardax is still building their DEX and hopefully, we will see it live soon. They have a bit of work to do in regards to correcting and improving things from their last audit.
They're now looking at running an ISPO to gain some more ADA to fund their project and to distribute more of their tokens to the community. They do have a set amount of tokens that they supply per epoch and that is distributed among the delegates of the pool. This means that the price and cost of the token will vary from epoch to epoch. You should work out the cost of the token for your delegation and compare that to the open market price to see if it is worth delegating to but if you're keen on helping the project and delegating for the long term it still may be just worth delegating to.
Find out more about the Cardax ISPO.
Revuto ISPO
I've heard rumours but more details to come.
Annoy Vex about that one.
Shipy Space ISPO
Delegate to the stake pool SOLPI to earn some of their Nebular dust tokens at a rate of 1 per 10 ADA.
Find out more on the Shipy Space website.
Iagon ISPO
Check out the Iagon ISPO dashboard for their project.
Genius X ISPO
More details at the Genius X website.
GoKey ISPO
Find out more about GoKey and their ISPO.
Run Your Own Cardano ISPO
If you want to run your own ISPO dashboard for your project you can do so using our free and open source plugin at CardanoPress.io