In this tutorial we look at how to stake MIN tokens and earn ADA rewards. Staking tokens is a great way to earn additional rewards and avoid risk such as impermanent loss which can be suffered when providing assets to liquidity pools on decentralised exchanges (DEX) such as Minswap.
The idea of staking assets requires a user to give up custody of their assets and lock them into a smart contract.
Table of Contents
Step by Step Video Guide to Staking $MIN Tokens on Minswap DEX
Factors To Consider Before Staking
When choosing a staking period there are several factors that you need to think about.
Will you need the assets during this time period?
Are there events that will happen between now and when your staking period ends that will impact the value of your tokens?
Taking these two factors into account will help you choose an appropriate staking period for your assets.
Minswap have allowed users to unstake their tokens at any time but will forfeit any potential accrued rewards in the process.
Choosing How Long to Stake Min
The platform allows you to stake multiple times for multiple different periods of time. For example, if you have 100 MIN tokens to stake, you can choose to stake 50% of your MIN tokens for 9 months, 25% of your MIN tokens for 6 months and the remaining MIN staked for 3 months.
This will give you more flexibility of when your MIN tokens will unlock and when you will potentially get your ADA rewards.
Withdrawing Your Assets
In the event that you need you need your assets back, you can easily unstake and move your assets back into self custody.
Please also be aware that interacting with smart contracts themselves comes with a level of risk. There have been many exploits and hacks over the years in the cryptocurrency industry, fortunately nothing notable in the Cardano ecosystem.
Step by Step Guide to Stake MIN Tokens and Earn ADA Rewards
Stake Your $MIN Tokens and Earn ADA Rewards
Click on Connect wallet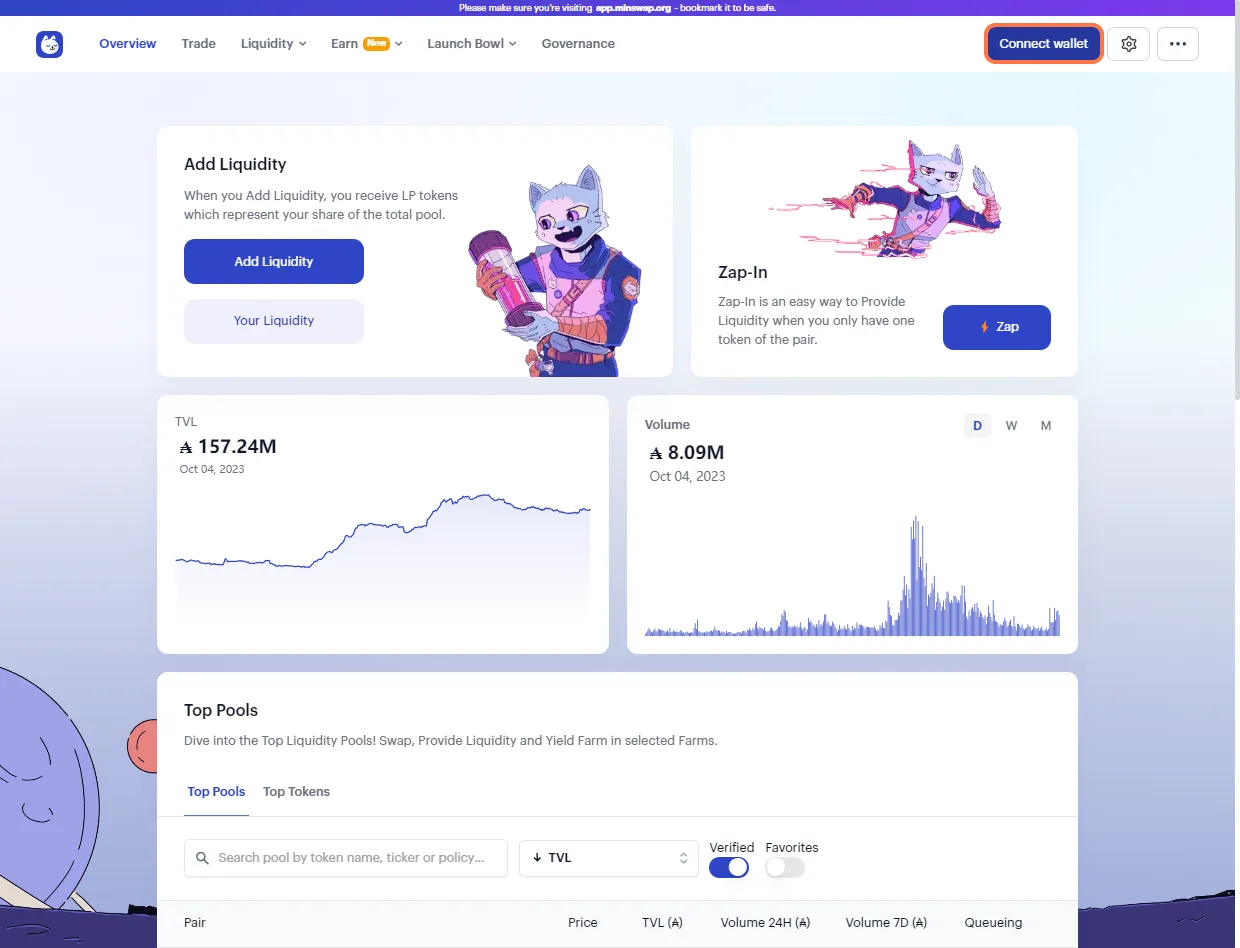 Visit the website Minswap website at https://app.minswap.org and connect your favourite Cardano native wallet.
Click on Earn and then Staking
Navigate to the staking area of the website. Click "Earn" and then "Staking".
Choose the Your Staking Option
From the various staking options, decide what is best for you and make a selection. Remember that you can stake multiple times with different amounts of MIN for different periods of time. The flexibility of the staking platform gives you options that work best for your situation.
In this case we chose the 3x Boost option for 3 months at 3.36% APR.
Choose the Amount of MIN You Wish To Stake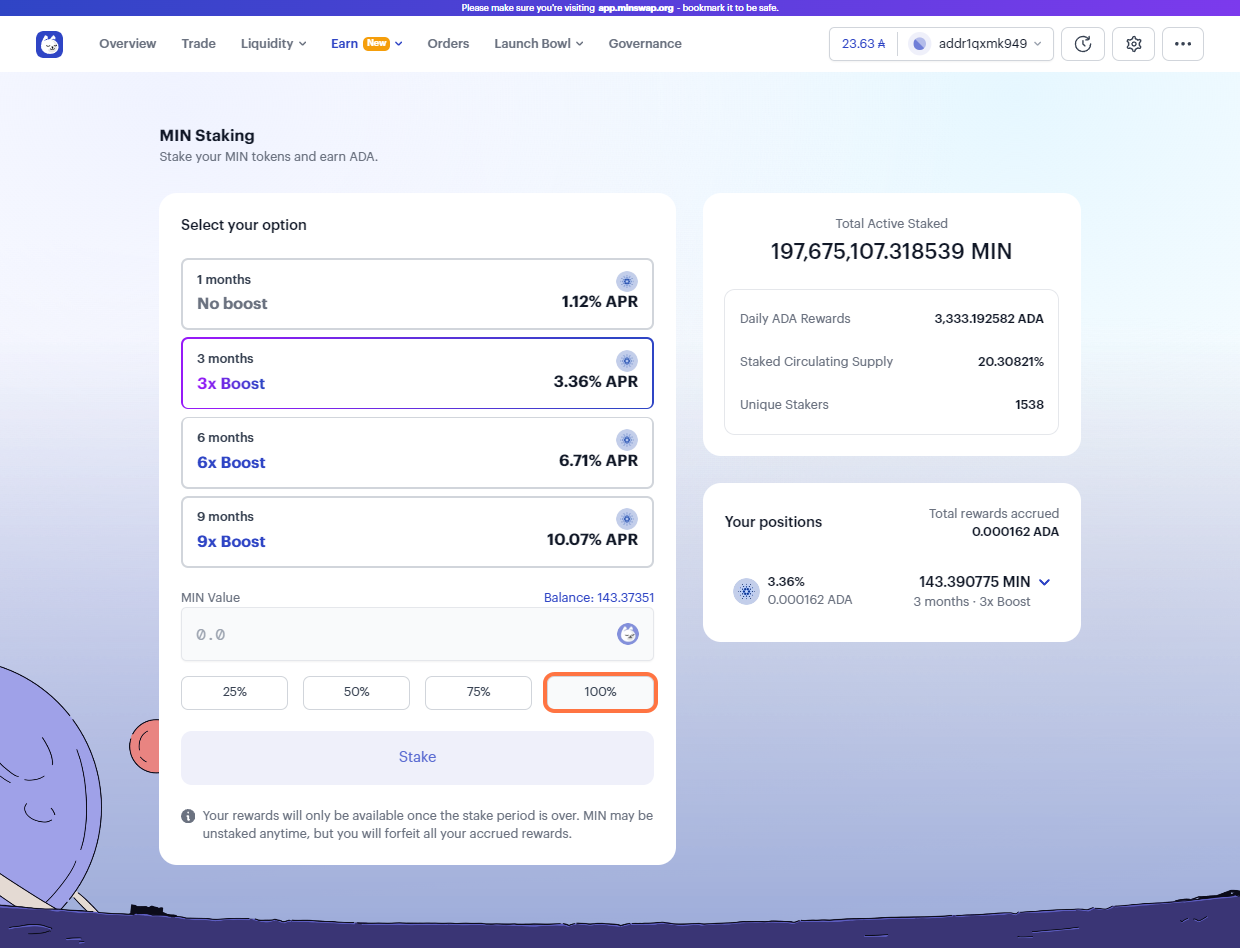 Next, choose the amount of $MIN balance you wish to stake. You can type in the exact amount of $MIN tokens or select from the percentage values below.
Click Stake and Confirm Your Transaction
Lastly, check over your decision and click "Stake". Your wallet confirmation will appear, sign the confirmation and you're done.
You have successfully staked your $MIN tokens and are earning ADA rewards.
Summary
In summary, this tutorial guides you on how to earn ADA rewards by staking MIN tokens on Minswap. Staking is a way to make more money while avoiding certain risks on decentralized exchanges. It's important to think about when you might need your tokens and how market events could affect them.
Minswap gives you flexibility in choosing how and when to stake your tokens. It's easy to stake and withdraw them, putting you in control.
Although there are some risks when dealing with smart contracts, Cardano has a good track record.
If you prefer a visual guide, there's a video with step-by-step instructions. Stake MIN tokens on Minswap is a way to boost your crypto earnings. If you have questions, feel free to ask. Happy staking!
If you have any questions, please leave a comment below.