EP010 – Cardano Smart Contracts, Alonzo is Coming & Lovelace Academy with Maria Carmo
Episode by Peter Bui on May 31st, 2021
I continue my interview with Maria Carmo this week. We talk about how her project Lovelace Academy got selected in Fund 2 of Project Catalyst to create content and a learning platform for Cardano covering everything from basic content to Cardano smart contracts. Maria explains her experience going through the Project Catalyst process and talks more about her content and Lovelace Academy.
News
Cardano360 Mini
This month's Cardano360 update came with a lot of spectacular news and updates for the project. If you have not yet watched the full update, checkout the Mini update which will give you an overview.
Alonzo Hard Fork – Cardano Smart Contracts are Coming!
In the latest Cardano 360 update for May, the teams went through what the next 90 days would look like with the release of the Alonzo hard fork and upgrades to Cardano smart contracts.
Smart contracts are one of the biggest features that people are waiting on Cardano is it will open up a world of decentralised applications (dApps) to be built on Cardano.
The Alonzo Cardano smart contracts rollout has been broken down into multiple phases to cater for the different groups that will be accessing the test development area.
Alonzo blue:
Less than 50 users, key SPO groups, Plutus Partners, Pioneer taskforce.
Hardfork node to Alonzo, test ADA distributed to SPOs, simple Plutus scripts submitted, validated & executed on-chain.
Alonzo white:
Less than 500 users, Partners & demos, WBE & PAB integrated, networking benchmarking, more SPOs
Partners & Pioneers start running scripts, benchmarking basic Dapps (Uniswaps & stable coins)
Alonzo purple:
Increase users, changes, all SPOs, all pioneers, continuous improvements
Testing for stability, scale and load users, Daedalus Flight & Explorer testing, Metadata server support, full testing with all 1500, Pioneers
Alonzo red, black, staging:
Staged testing and roll out to the Mainnet
Alonzo Mainnet:
Full rollout to Mainnet in September
Marlowe Demo and Scheduled Webinar Series
Marlowe Cardano smart contract builder was demonstrated and a webinar series was announced for anyone interested in learning more about building Cardano smart contracts with Marlowe.
The beauty of Marlowe is that it allows any non-programmer to potentially build simple Cardano smart contracts from a graphical interface as opposed to heavy Haskell and Plutus programming. It may not be suitable for all situations but for a simple Cardano smart contract that distributes funds or tokens to users, it's a perfect tool.
This tool alone could potentially bring in hundreds if not thousands of more users and businesses that are looking to enter the blockchain world of Cardano smart contracts but are hitting hurdles in regards to hiring the developers required to build contracts and integrations that may be required.
ERC-20 Converter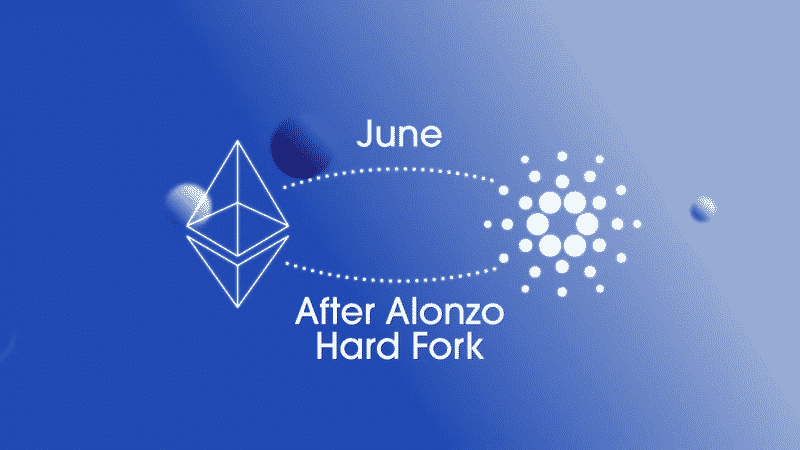 We knew that this was coming but we finally got to see a demo of it working between Ethereum and Cardano where you can convert the Ethereum ERC-20 token AGI to AGIX which is the equivalent native token on Cardano.
Users will be able to lock their ERC-20 tokens on the Ethereum blockchain and generated new native Cardano AGIX tokens and move them back after the Alonzo hard fork later this year. The Singularity.net project will have an eco system that can operate on either blockchain.
Hydra Scaling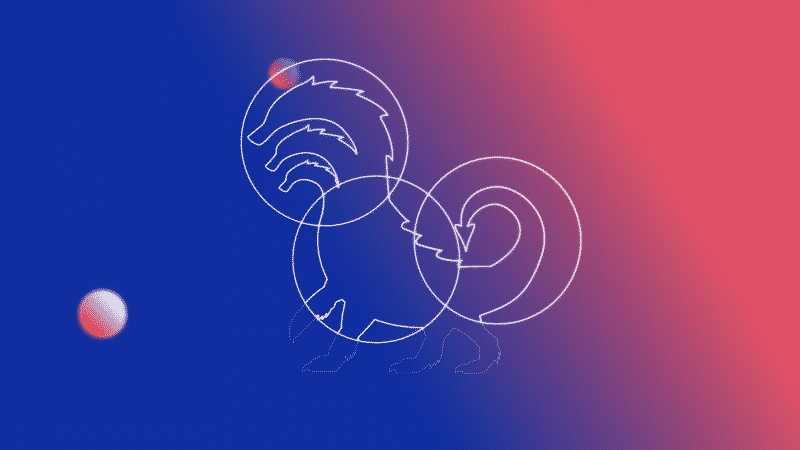 The initial stages and development of Hydra were announced. This three-part protocol allows the Cardano network to scale up to 2 million transactions per second with 2000 operational stake pools. That is a mind-boggling number when you look at current providers such as VISA which currently processes ~2000 transactions per second.
It is still early for this part of the project and we won't see it in action for some time.
Cardano Smart Contracts Are Coming!
With the 1500 Plutus Pioneer developers coding away experimenting with their own Cardano smart contracts, the ERC-20 Converter ready to convert various projects from Ethereum to Cardano, Marlowe Cardano smart contract builder lowering the barrier of entry and the roll-out of Alonzo era Cardano smart contracts to the Cardano blockchain, we're looking at hitting the blockchain market in a big way.
– 1000s of #plutus smart contracts devs being trained right now.
– Ethereum to Cardano bridge ERC-20 converter to Cardano.
– #Marlowe visual smart contract builder.#smartcontracts are coming to #cardano in a BIG way.

— Pete Bui (@astroboysoup) May 28, 2021
The Cardano project is already exciting with Proof of Stake, rewards and stake pools operating, native tokens and NFTs. Cardano smart contracts are going to add a whole new level of excitement, development and activity to the already rock-solid blockchain.
Interview with Maria Carmo – Part 2 – Catalyst Process for Lovelace Acadamey
This interview is a continuation of a previous interview with Maria where she spoke about her experience as a Cardano Ambassador and her passion for education. She continues the interview with her experience going through the vetting process of Project Catalyst and getting funded for her Catalyst proposal, LoveLace Acadamey.
Maria talks steps me through the process of refining a proposal, how a Catalyst adviser rates and ranks a proposal and help guide voters through various projects that they can vote on.
You can find out more about Maria and her contributions to the community:
Win a CryptoDoggies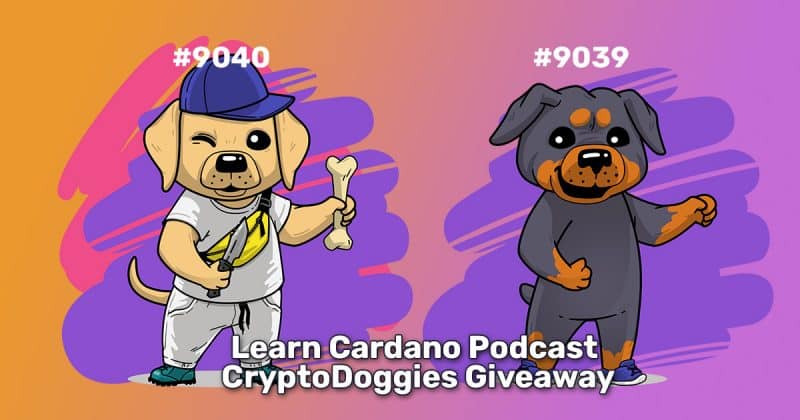 These CryptoDoggies are no longer for sale but you can still win them in our giveaway. Just enter on the CryptoDoggies competition page and we'll be drawing these on the 15th of June. Good luck!